Austin Audiologists
We won't stop until you get the results you're looking for. Schedule an appointment today and meet our team of Audiologists. Call or text us at 512-434-0494.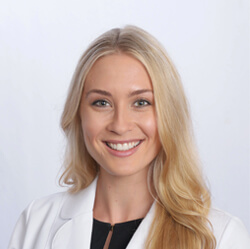 Kaylene Ball, Au.D., CCC-A
Doctor of Audiology
Dr. Kaylene Ball completed her undergraduate and graduate degrees at the University of Texas in Austin. She graduated with honors as a Doctor of Audiology and holds her Certificate of Clinical Competence in audiology from the American Speech-Language and Hearing Association.
Dr. Ball is a clinical audiologist who concentrates on behavioral and objective diagnostic testing, electrophysiological vestibular evaluations, aural rehabilitation through the use of hearing aids, cochlear implant programming and is experienced in tinnitus evaluation testing.

During her time at the university, Dr. Ball lead research into the development of speech perception in cochlear implant users and participated in research to better understand speech perception in noise. She has participated in noise-induced hearing loss and hearing loss prevention outreach programs in Austin area schools, helping to teach children the importance of hearing protection and hearing healthcare. She also serves as the Clinical Director of Audiology for Ears and Hearing, a program that specializes in newborn hearing screenings.

In her spare time, Dr. Ball enjoys spending time in the outdoors, especially camping or anything that has to do with the water. When she is able to, she also likes taking her dog on hikes.
Austin Ear Clinic
12319 N. Mopac Expy
Building C, Suite 300
Austin, TX 78758
Austin Ear Clinic: 512-434-0494
Hearing Center: 512-601-8972
By Appointment Only
Mon – Thurs: 8am – 5pm
Fri: 8am – 1pm